---
Weddings 
Spend your special day in the romantic setting of the château Hluboká
Weddings at Hluboká Castle have been taking place since 1975. At that time, the ceremonial hall was entered from the first courtyard and left on the second courtyard of the castle. In 2003, the National Heritage Institute České Budějovice, in cooperation with the city of Hluboká nad Vltavou, reconstructed the former orangery in the rear wing of the chateau. In June 2003 a new ceremonial hall was opened, where ceremonies are still held today. The ceremonial hall is used by the City of Hluboká nad Vltavou on the basis of a lease agreement concluded with the National Heritage Institute.
In order to conclude an official marriage contract it is necessary to contact the Registry Office of the City of Hluboká nad Vltavou (+420 387 001 324, +420 608 654 375).
The castle only provides space for the ceremony. We don´t provide decoration, music, banquet, accommodation, etc.
Wedding ceremonies can be held the whole year at the chateau, depending on the agreement with the town of Hluboká nad Vltavou. See the city's website for more information: http://obcan.hluboka.cz/node/50.
The most popular dates for wedding ceremonies are April, June, July, August and September. It is therefore appropriate to reserve dates for these months well in advance of several months. Wedding ceremonies are held on Fridays and Saturdays. Exceptionally also on another working day of the week. Friday is set by the city council as a marriage day.
Places for wedding ceremony
On the hill in front of the castle
Price: 18 000CZK
Ceremonial hall in the former orangery
The seating capacity is 20 people, the maximum capacity of the ceremonial hall is about 40 people.
Price: 18 000CZK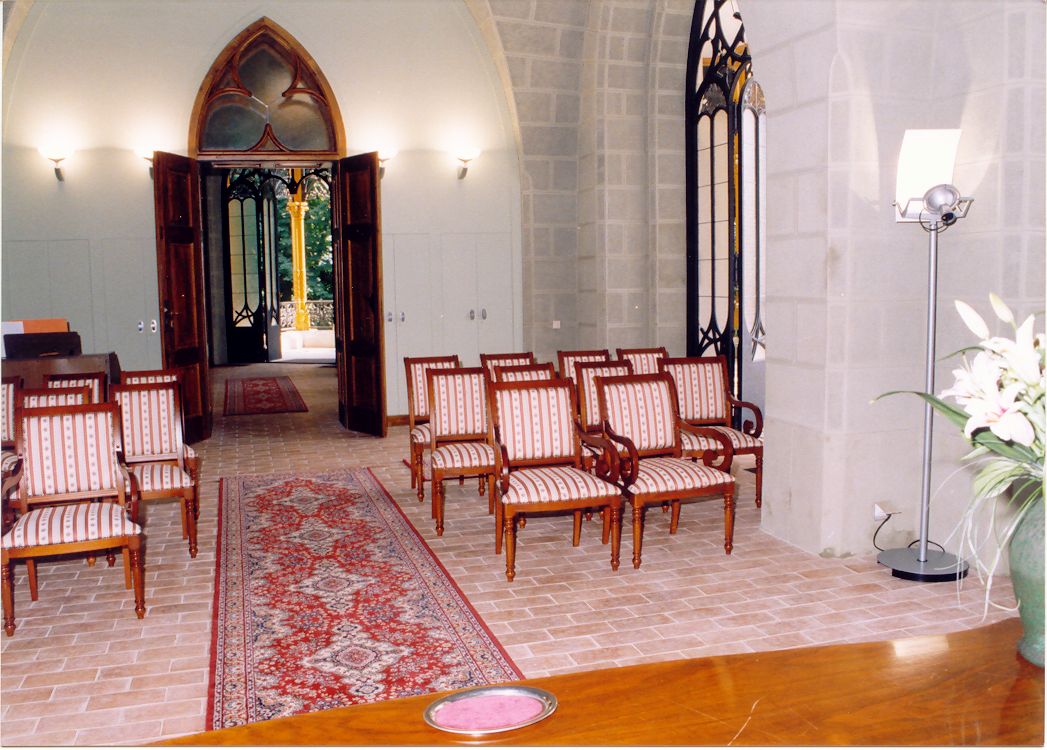 By the pond in the park
Price: 6 000CZK
In the interior- Large dining room
The premises of the Large Dining Room are part of the 1st guided tour (Representative Rooms).
Price: 80 000CZK
Additional information
Throwing rice, confetti, etc. is prohibited throughout the chateau.
Music production must not interfere with the normal operation of the chateau.
Toilets are free in the first castle courtyard.
Wedding photos can be taken free of charge.
Parking for guests is possible about 100m from the ceremonial hall on a reserved parking lot.
Wedding guests are responsible for any damage that may occur during or in connection with the wedding ceremony.
Weddings must also respect the prohibition of any interference with plaster and masonry (including leaning objects against it) and moving inventory or accessories in the wedding area.
Open flames must not be used in the premises. Smoking of cigarettes outside the designated areas is prohibited.
The wedding may only take place in the designated area.
Wedding guests may not install anything without the knowledge and consent of the Hluboká chateau staff, of whom at least one must supervise the wedding.

For booking dates:
Hluboká nad Vltavou Registry Office:
Phone: +420 387 001 324 +420 608 654 375
http://obcan.hluboka.cz/node/50
Administration of SC Hluboká nad Vltavou:
Phone: +420 387 843 911
email: hluboka@npu.cz